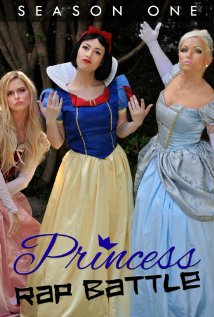 Princess Rap Battles is a rap battle series created by Whitney Avalon it features mostly princesses rapping however there are some battles that contain characters that are not princesses. Whitney has stated "BTW, we've been expanding the concept of "princess" since our first episode. Katniss and Hermione definitely rule their stories. (As do Mary Poppins, Maleficent, and many others we've featured.)" The series began on September 17, 2014 on Whitney Avalon's YouTube channel.
Rap Battles
Snow White vs Elsa
Galadriel vs Leia
Mrs. Claus vs Mary Poppins
Cinderella vs Belle
Maleficent vs Daenerys
Katniss vs Hermione
Freya vs Ravenna
Rapunzel & Flynn vs Anna & Kristoff
Cast and Guests
Whitney Avalon (1,2,3,4,5,6,7,8)
Katja Glieson (1)
Sara Erikson (2)
Alyssa Preston (3)
Jim O'Heir (3)
Kevin Allen (3)
Sara Michelle Gellar (4)
Yvonne Strahovski (5)
Bianca DeGroat (5)
Lorenzo Adams (5)
Nathan Graham Smith (5)
Molly C. Quinn (6)
Laura Marano (7)
Eliza Dushku (8)
James Maslow (8)
Tom Lenk (8)
Ad blocker interference detected!
Wikia is a free-to-use site that makes money from advertising. We have a modified experience for viewers using ad blockers

Wikia is not accessible if you've made further modifications. Remove the custom ad blocker rule(s) and the page will load as expected.